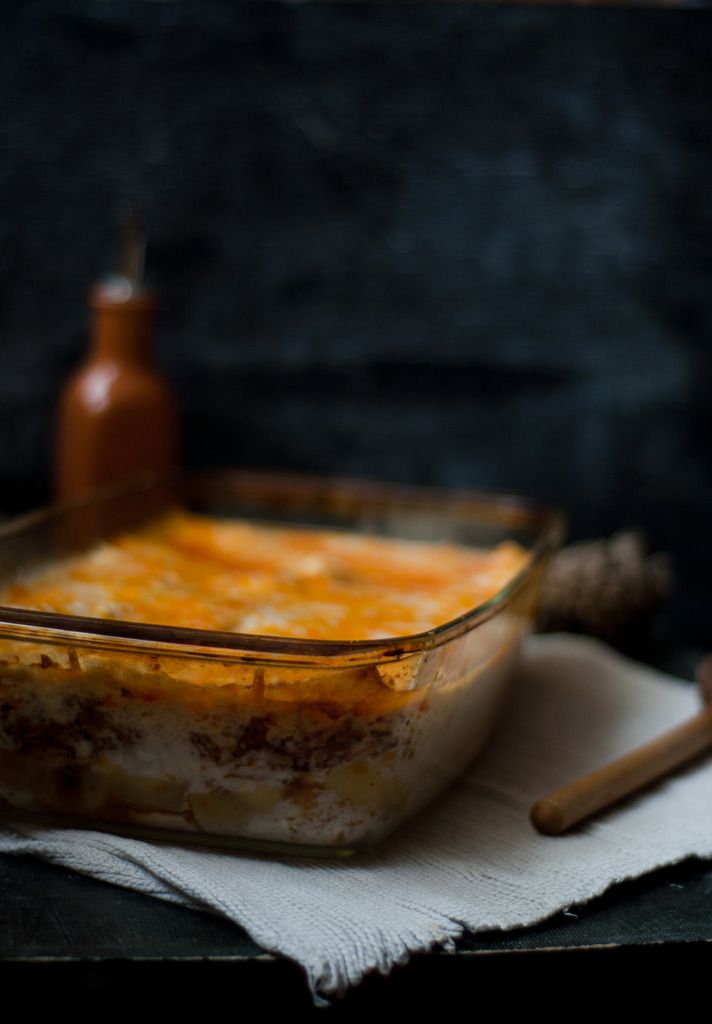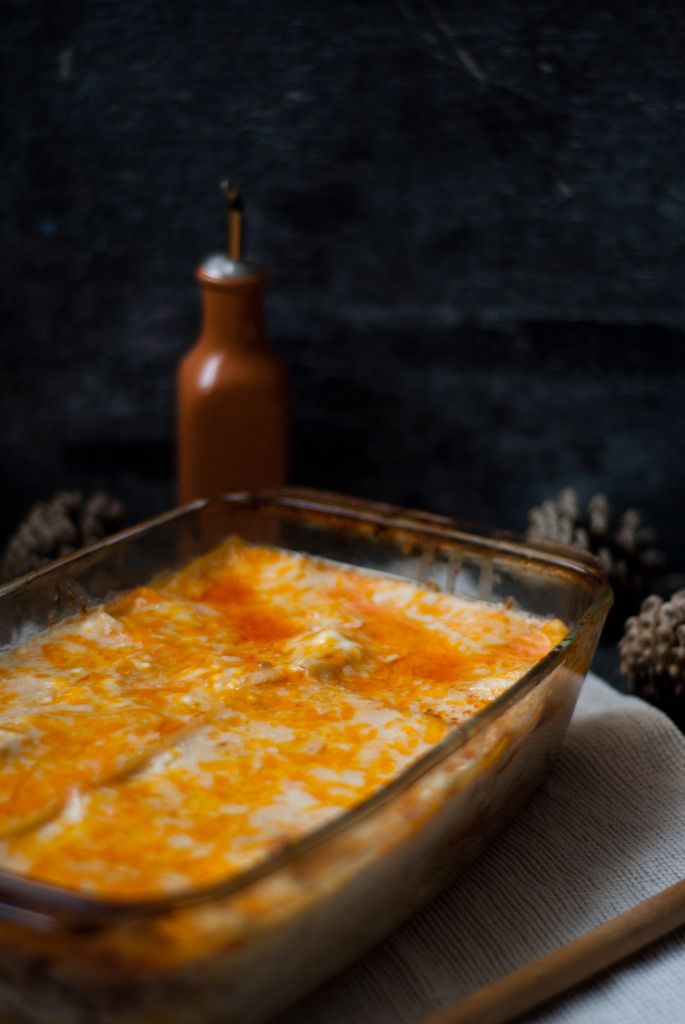 This has to be one of the best lasange recipes, it's from one of my mum's cookery books. The book itself is from the 70's and has some questionable food photography but boy does this taste amazing. There's two reasons for this the bacon lardons combined with the beef mince. The flavours compliment each other so nicely. The other reason this tastes so incredible, the cottage cheese in the white sauce.
When we first had this lasange my mum kept it from me that it had cottage cheese in it, to be fair I had never tried it but it looks revolting. Tasting it in the white sauce changed me opinion on it completely and since then we made some delicious cottage cheese and spicy pepper quesadillas.
I do love anything that contains cheese and this is topped with one of my favourites Red Leicester it goes really well with the nutmeg and gives it an amazing colour. My mum made this for dinner one Sunday and I had to photograph it to share with you guys, I'm pretty proud of my make-shift backdrop of two chalkboards, I thought it looked suitably Autumnal.
Now I can't promise that yours will taste as good as my mum because I'm pretty sure she has some secret ingredient that makes recipes taste far better. I've made this a couple of times and I just can't make it taste as good as she does.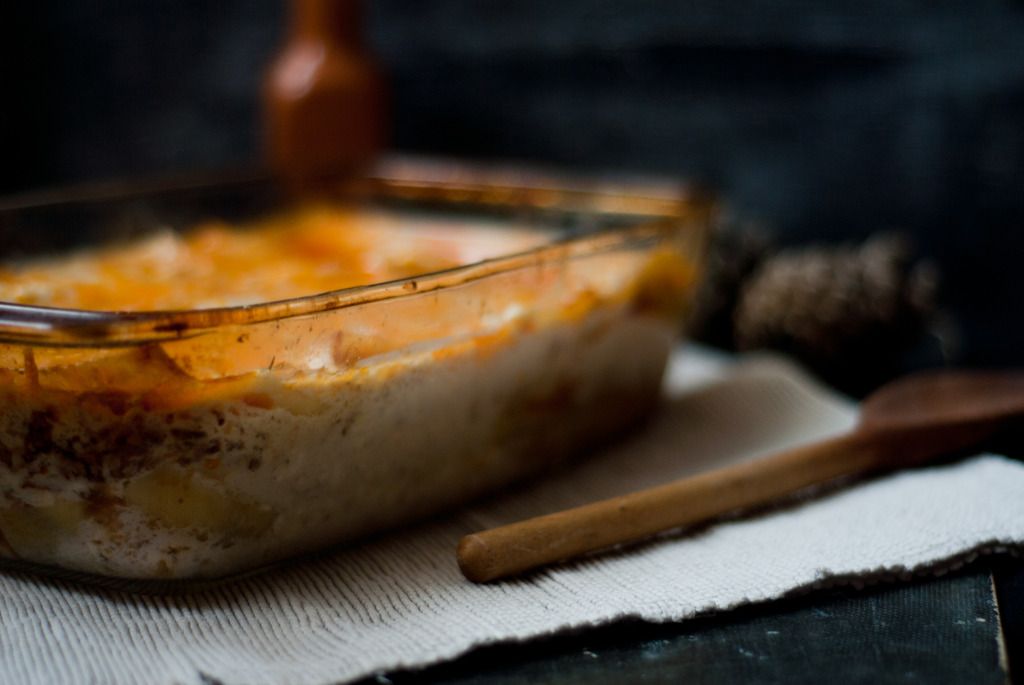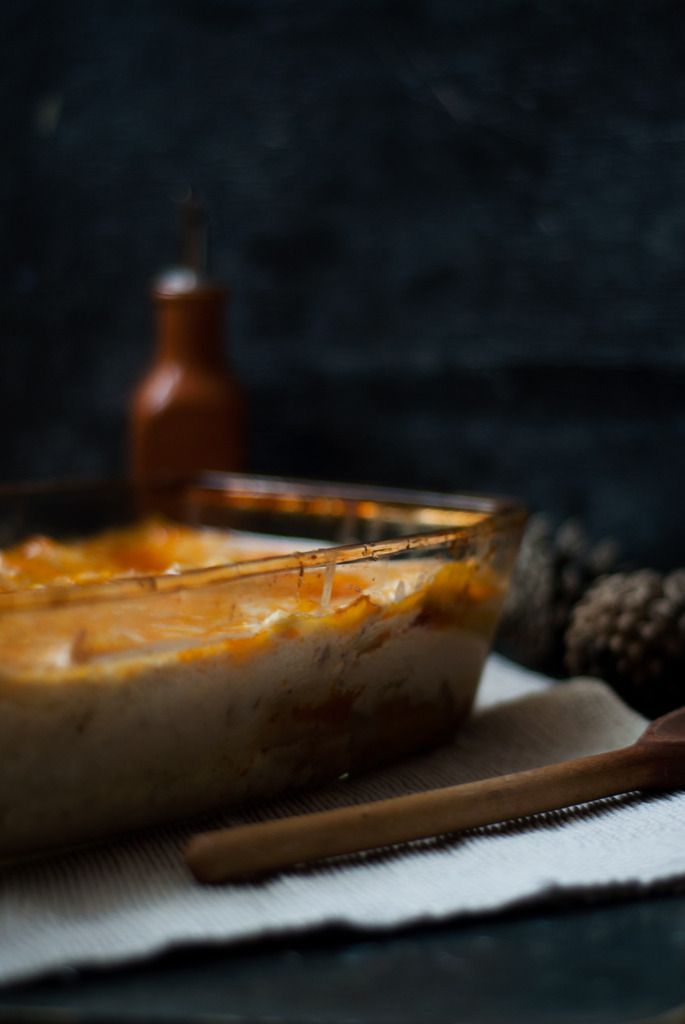 Mama's Lasange
- Serves 4 -
Olive oil, for frying
1 onion, finely chopped
1 garlic glove, crushed
1 red chillie, finely chopped
100g bacon lardons
500g minced beef
tin of chopped tomatoes
150ml beef stock, Bovril works best
2 tbsp tomato ketchup
1 tsp sugar
1 tsp dried oregano
ground black pepper
175g lasagne
25g butter
50g flour
For the white sauce:
600ml hot milk
pinch of grated nutmeg
salt and pepper for seasoning
226g carton cottage cheese
50g Red Leicester
- Heat a spoonful of oil in a large pan and add the onion, garlic and chillie. Fry until soft and golden.
- Add the bacon lardons and fry until crisp.
- Add the minced beef and fry until browned, stirring constantly.
- Stir in the chopped tomatoes, stock, tomato ketchup, sugar, oregano and black pepper. Bring to the boil stirring constantly, lower the heat, half cover with the saucepan lid and simmer gently 20 minutes or until the sauce is reduced and thick.
- In the meantime, cook the lasange. Bring a large pan of salted water to the boil and stir in a spoonful of oil. Cook the pasta a few sheets at a time to prevent them sticking together.
- Drain the pasta and pat dry with kitchen roll.
- Preheat the oven to 190ºC/Gas 5.
- To make the white sauce. Melt the butter in a pan, stir in the flour and cook for 1 to 2 minutes, stirring constantly.
- Remove from the heat and gradually add in the milk. When all the milk is incorperated return to the heat and bring to the boil, stirring constantly.
- Lower the heat and the nutmeg, salt and pepper, simmer gently until the sauce thickens. Remove from the heat, leave to cool slightly. Then add in the cottage cheese.
- Arrange the meat, pasta and sauce in layers in a shallow baking dish.
- Sprinkle the final layer of sauce with the Red Leicester.
- Bake for 30 minutes or until browned and bubbling.
- Serve straight away.
Adapted from the St Michael All Colour Cookery Book
This post has been scheduled in advance as I am currently taking two months maternity leave from blogging to be with my baby. All comments will be answered in time, thank you in advance for being patient.