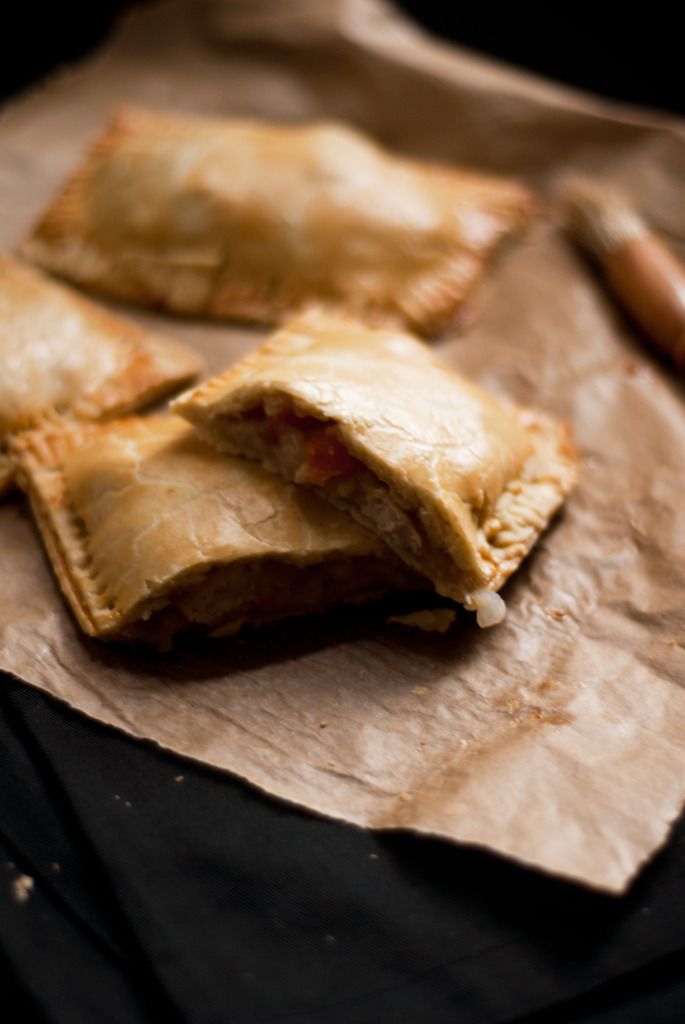 There's nothing more comforting on a cold day than pastry. Oh how I love it. I've found myself with someone who isn't as keen on pastry as me (I blame my Cornish heritage) so we kept it thin on these where as I would have it much thicker and with a lot more vegetables inside. That's what is great about this recipe is that you can put anything you like inside. Add celery, potatoes or change up the meat, a tender beef would work so well!
Served with roast potatoes veg and gravy these slices make a great alternative to a Sunday lunch. They would also go great in a packed lunch, just keep them chilled. I do love the edging on these and the next time I make a sweet pie I'm going to do them in this style. I was surprised at how well these stayed together considering I did over fill them slightly. Hey you can't blame me for trying to get more filling in can you? I think the secret is the beaten egg, it works so much better than milk and my mum always used to use an egg for glazing. It makes the pastry come out a beautiful golden colour. Perfect for an Autumn day!
Chicken Slice
- Makes 4, with freezable leftover filling -
1 tbsp oil
1 onion, diced
2 carrots, chopped
1 tablespoon butter
100g flour
400ml chicken stock
2 boneless, skinless chicken breasts, cooked and shredded
1 egg, beaten
Salt & pepper
225g plain flour
100g butter, cubed and fridge cold
pinch of salt
- First make the pastry. In a bowl of a food processor add the flour, butter and pinch of salt. Blend until the mixture resembles fine breadcrumbs. Add 2-3 tbsps of water and pulse until a dough starts to form.
- Chill the dough in the fridge for at least 30 minutes,
- Preheat the oven to 200ºC/Gas 6 and line two baking trays with parchment paper.
- In a large pan, over a medium heat fry together the onion and carrots. Cook for 10-12 minutes until the onion are soft.
- Season with salt and pepper. Add butter. cooked chicken and chicken stock. Simmer for a few minutes.
- Add the flour and mix well until a thick pie filling forms.
- Leave the pie mixture to cool while you roll out the pastry,
- Roll out the pastry 3cm thick and cut out 4 large rectangles. Cut those in half and set one aside, this will become your pie lid.
- Place a couple of spoonfuls into the middle of the pastry. Brush a little beaten egg around the outside of the pastry, this will help to seal the slice shut,
- Place the pastry lid on top. Take a fork and press into the outside of the slice. Brush with more beaten egg and place on the baking tray.
- Follow this process for the other three slices. Any pie filling you have left can be frozen, once cooled, for up to a month.
- Bake in the oven for 20-25 minutes until golden brown.
- Serve warm.
Adapted from Rachel Schultz Chicken Hand Pies
This post has been scheduled in advance as I am currently taking two months maternity leave from blogging to be with my baby. All comments will be answered in time, thank you in advance for being patient.