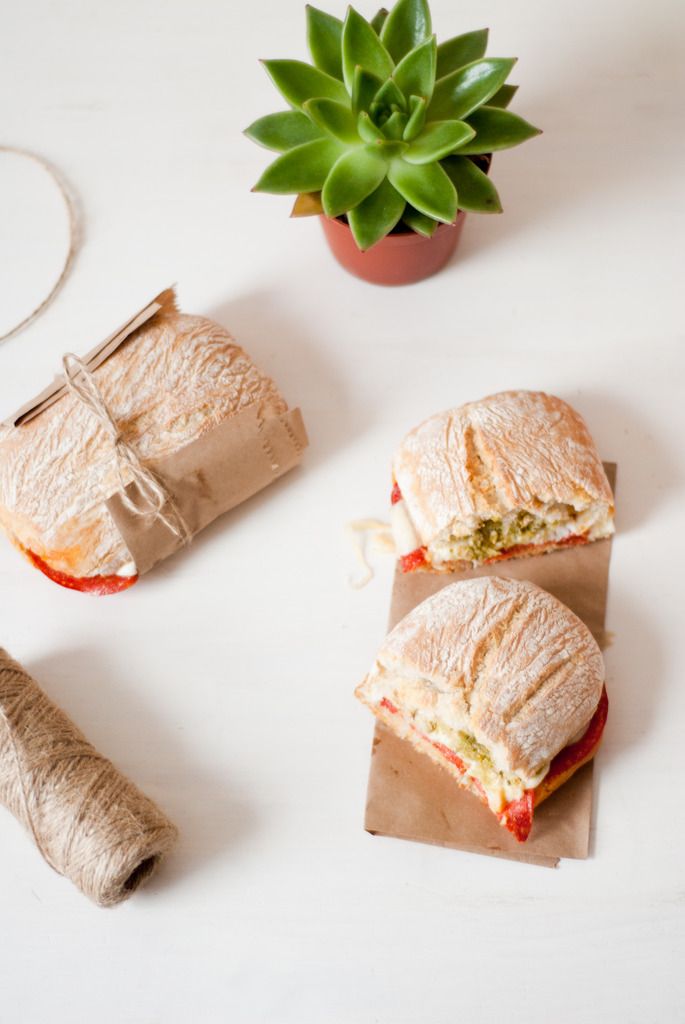 Sometimes when you're wasting endless hours scrolling through Pinterest you stumble upon something that you need to make. This was one of them. And something that can be recreated without ending up on Pinterest fails is always welcome. There's nothing better than a good sandwich, one that you put some effort into rather than the soggy ham sandwich in your pack lunch box when you were 6. I'm pretty sure I could live off sandwiches and I need to experiment with lots of flavour combinations. I feel the need for a sandwich series!
These are so easy to make and you could use any bread you like. We opted for cibatta but a sourdough would work just as well. The same goes for the meat. We've made these a couple of times and used salami and pepperoni both work really well. What you do have to keep the same is the mozzarella and pesto. That combination is just beautiful. These are perfect for lunch (they'd be amazing for summer picnics) or for dinner served with fries or thickly cut chips. Onto the recipe!
You will need:
150g mozzarella, sliced
1 pack of salami
4 cibattas
4 tablespoons of green pesto
Preheat the oven to 200ºC.
Slice the cibattas in half and place onto a baking tray.
Place the salami onto the cibatta and layer on the mozzarella.
Bake for 7 minutes or until the mozzarella has melted.
Take out of the oven a spread a tablespoon of pesto onto the other half.
Place together and eat straightaway whilst the mozzarella is gloriously stringy.
Enjoy!