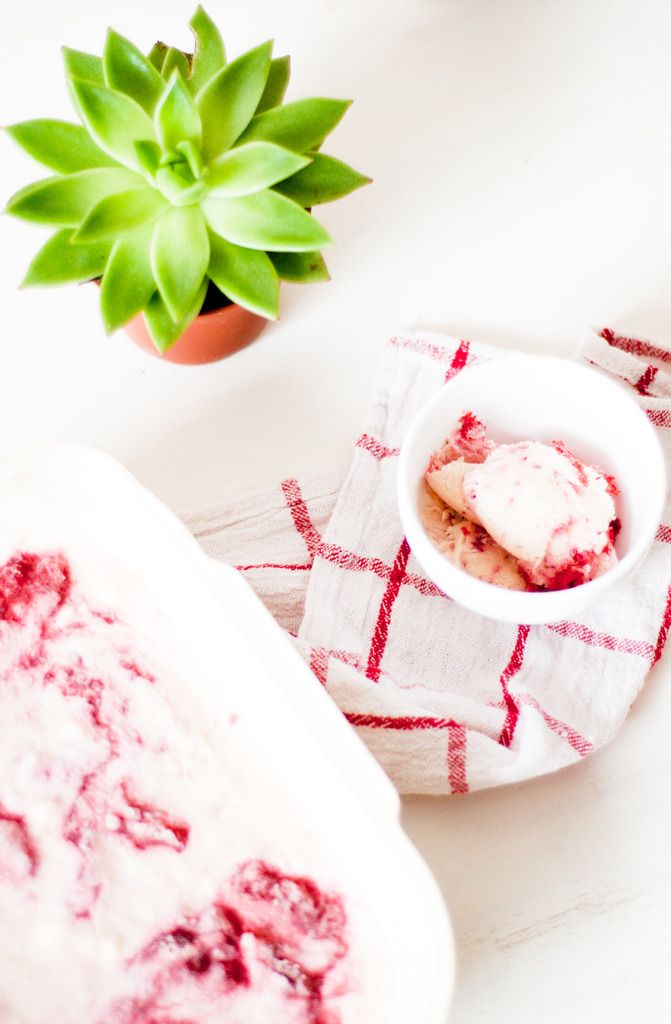 I've found the perfect use for summer strawberries. As much as love Eton mess and other such desserts I think this beauty wins them all. Although I have an ice cream maker I rarely use it (naughty, I must get it out) so I always look for no churn recipes when I'm planning to make ice cream. I mean who can be bothered to check on it every few hours. I do want to make a granita which needs constant attention but on this occasion I was feeling particularly lazy. Probably something to do with that baby sitting on my bladder, or how it's far too hot to be pregnant!
The
strawberries we picked
were so delicious they deserved to be made into something incredible. Incredible and easy. I whipped this up in 10 minutes and then left it overnight to freeze. How simple is that?
The only thing I will say about this beauty of a dessert is that you will need to get it out of the freezer 20 minutes before you want to serve it up. This makes it so much easier to scoop out. This lasted us almost a whole week which is pretty good going considering we both had hearty portions. If you were serving this for a special occasion some crushed meringue or shortbread biscuits would compliment it perfectly.
I guess you'll want to know this super easy recipe then?
You will need:
450g fresh strawberries
397g tin of condensed milk
600ml double cream
2 tsp vanilla extract
Place the strawberries into a bowl and puree using a potato masher. Alternatively place if you have a food processor blitz them up until smooth.
Set some of the puree aside for making swirls on top.
Add 1/4 of the condensed milk to the remaining strawberry mixture.
Whip the cream until it forms soft peaks. Carefully stir in the vanilla and the remaining condensed milk.
Swirl the strawberry and milk mix into the the cream.
Pour into a freezable tub and swirl in the reserved puree. Don't over stir as you won't achieve the desired effect.
Place in the freezer and freeze overnight.