I've had a stash of
Lindt dark chocolate
in the fridge for a while now and I've been meaning to make a chocolate ice cream too so it made sense to create a rich dark chocolate ice cream with the stash.
One of the bars of chocolate was 99% cocoa
, it came so beautiful packaged in a gold carrier and foil wrapped, we decided to try a little but it was far too strong even for my dark chocolate loving Mr. However all was not lost because we decided that it would work perfectly in an ice cream, especially a sweet condensed milk ice cream.
I can't tell you how much I love a no churn condensed milk recipe. The texture of the ice cream is creamy, you don't have to have an ice cream maker and best of all I can eat it as there's no need for raw eggs. I feel like I need to write an ice cream recipe book with all the recipes using condensed milk! It's amazing how simple ingredients can come together to create something so tasty and how easy it is to adapt and create different recipes.
We both knew the ice cream was going to taste amazing as we might have licked the bowl clean, after the 10 hour wait it still had the creamy texture, which can sometimes be lost when it's frozen. It was so delicious. The 99% chocolate was a great addition, the vanilla balanced out the richness of the chocolate perfectly.
The idea of the slice is based on a recipe in the new edition of Jamie magazine. The recipe was for a neopolitan ice cream block but I'm not keen on chocolate and strawberry ice cream together so I adapted the recipe to just chocolate and vanilla which if we are being honest are the best two ice cream flavours.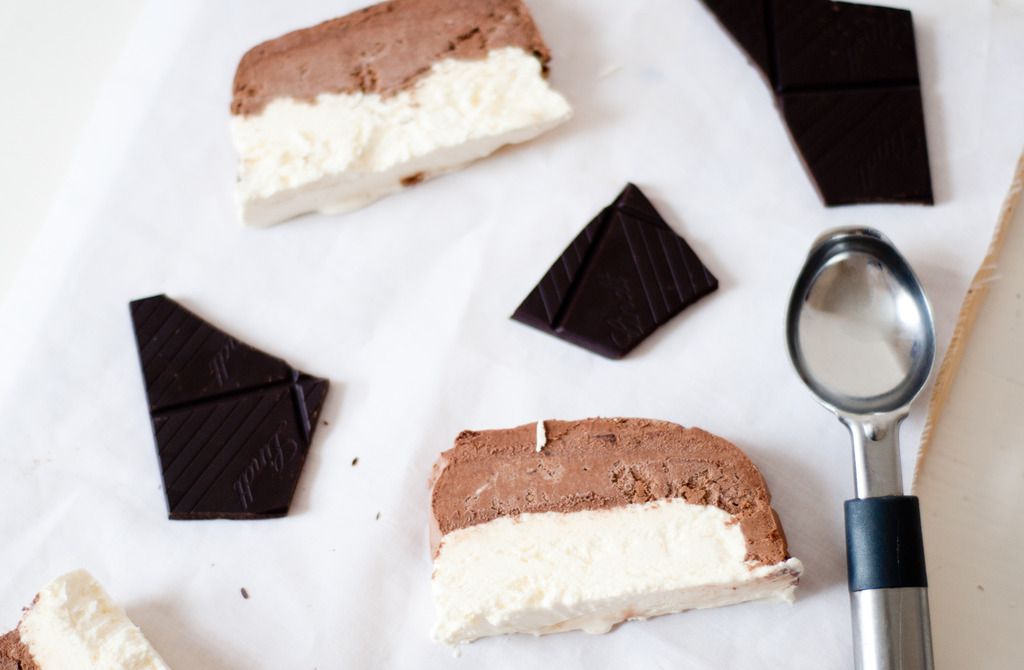 Chocolate & Vanilla Ice Cream Slice
- Serves 8 -
600ml double cream
397g tin of condensed milk
2 tsp vanilla extract
200g high cocoa percentage, dark chocolate
- Line a 1lb loaf tin with cling film, leaving enough over hanging to pull the ice cream block out when it's frozen. If you don't have any cling film you can use foil and baking paper layered up.
- Melt the dark chocolate in the microwave on a medium heat, stop and stir every 45 seconds to prevent the chocolate from burning. Once fully melted set aside to cool.
- In a large bowl combine condensed milk, cream and vanilla. Using an electric whisk beat until thickened. This should take around 5 minutes.
- Divide the mixture into two bowls. Place the bowl with the vanilla half in it in the fridge.
- Add the cooled melted chocolate to one of the bowls and gently fold in until completely combined.
- Spoon the chocolate mixture into the lined loaf tin and place in the freezer. After 30 minutes spoon the vanilla half on top.
- Cover with cling film or foil and freeze for at least 10 hours, until frozen.
- When you are ready to serve, pull the ice cream block out with the cling film/baking paper over hang. Using a sharp knife cut into slices. You may need to warm up a knife (by running it under the hot tap) if you struggle to get through it.
- Serve the slices immediately.
Although the chocolate has been sent for my consideration all views are my own.