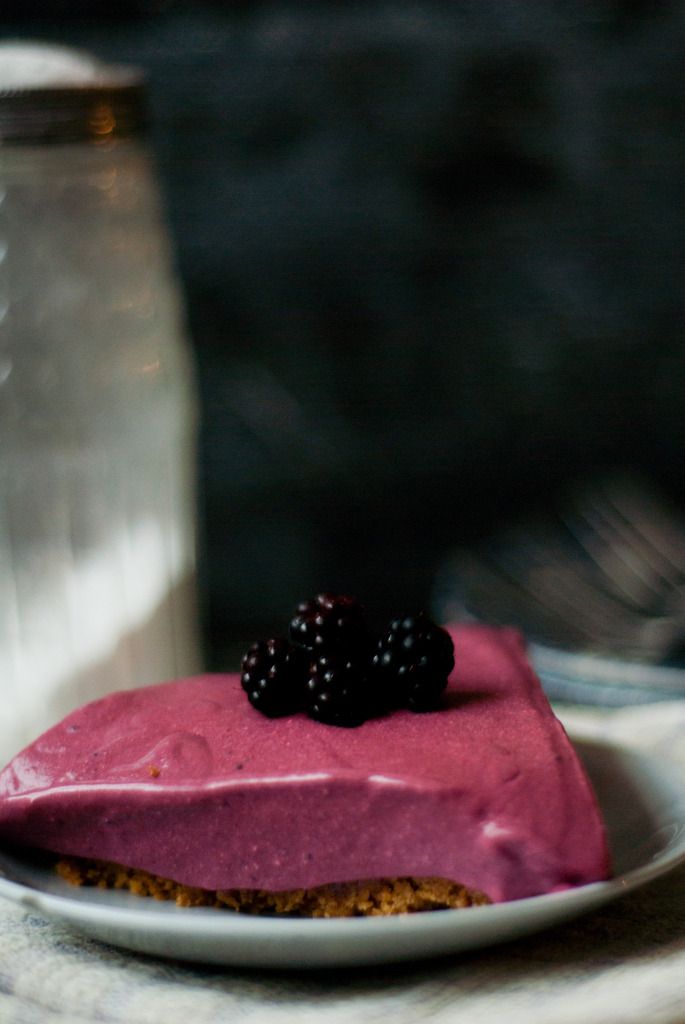 Sunday afternoons are spent at my Mama's. There's nothing better than starting (or ending depending on how you think) the week with a home cooked meal. It's so comforting and mum's portions are always on the bigger side, which is always good!
Normally dessert is something she has created that day and a couple of weeks ago this cheesecake was on the menu. I had my camera with me as I took my
36 week update photographs
in her garden. So I took full advantage of the fact I had my camera and photographed this beauty. it's far too delicious not to share.
The blackberries are foraged from the overgrown path near my mum's house. Every year she's heads down there and creates something delicious from them. Last year we went together and I made a
blackberry ice cream
which tasted very similar to this cheesecake.
Usually she will make a crumble or something involving stewing them up which isn't to my liking at all. I really don't liked cooked fruit all that much unless it's pureed down and then allowed to cool like it is in this. The puree makes for such a beautiful purple colour and really tasty too.
After watching the Great British Bake Off last week I was a little horrified, along with the rest of twitter, that they had cheesecakes with a pastry base, No. That's a tart. Cheesecake has to have a glorious buttery base and gingernuts are my new favourite base of choice.
I find blackberries far too tart to eat fresh so I didn't top my slice of cheesecake with them but that's all down to personal preference.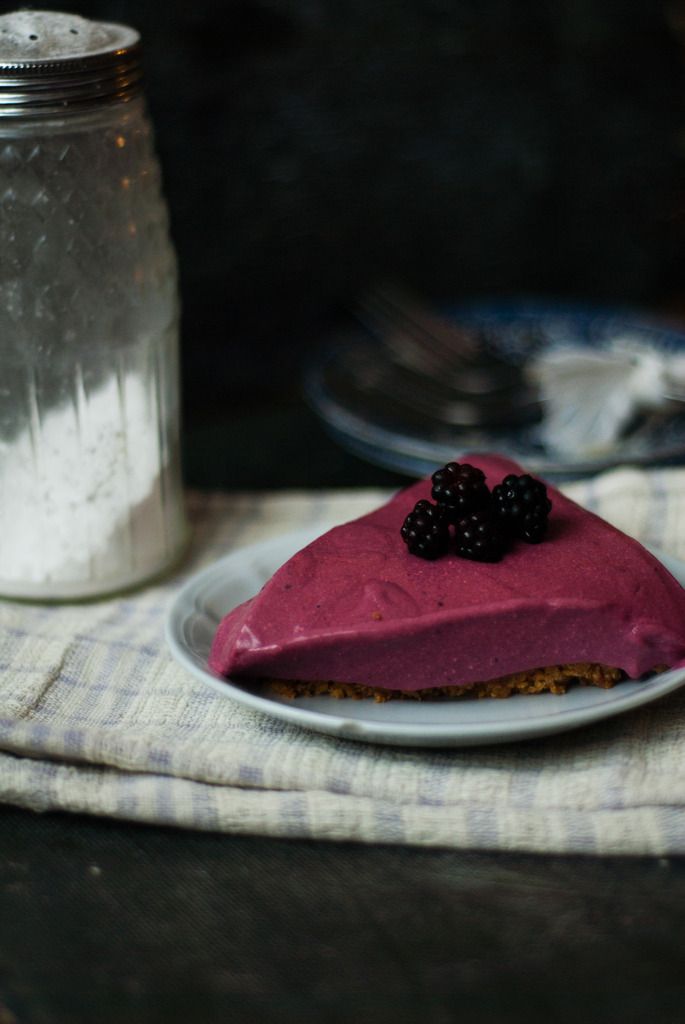 Blackberry Cheesecake
- Serves 6 -
3 tsp powdered gelatine
200g gingernuts
100g butter
500g blackberries, plus a few for decorating
100g caster sugar
300g full fat cream cheese
200ml double cream, lightly whipped
- Line the base of a 20cm loose bottomed tin with a circle of parchment paper.
- In a small bowl add 4tbsp of cold water. Sprinkle the gelatine of top and set aside until sponge like.
- Crush the gingernuts into a fine sand. Melt the butter over a low heat and add the butter to the crushed gingernuts.
- Spoon the gingernut mixture into tin and press down with a back of a spoon, place in the fridge for 30 minutes to set.
- Place the blackberries in a saucepan, leaving some aside for decoration, with half the sugar, heat over a low heat and stir gently until softened.
- Press the blackberries through a sieve to remove the seeds and set aside to cool
- Heat a pan of hot water and sit the bowl of gelatine inside until it has dissolved, do not be tempted to stir. Once dissolved stir the gelatine into the blackberry puree.
- In a separate bowl add the the cream cheese and remaining sugar beat together until combined. Add the blackberry puree and fold in the whipped cream. mix until you have a smooth consistency.
- Pour the into the tin on top of the biscuit base and level off with a palette knife.
- Chill for at least 2-3 hours although it could take longer. So make well enough in advance to allow for this.
- Serve with a few blackberries on top and a dusting of icing sugar.