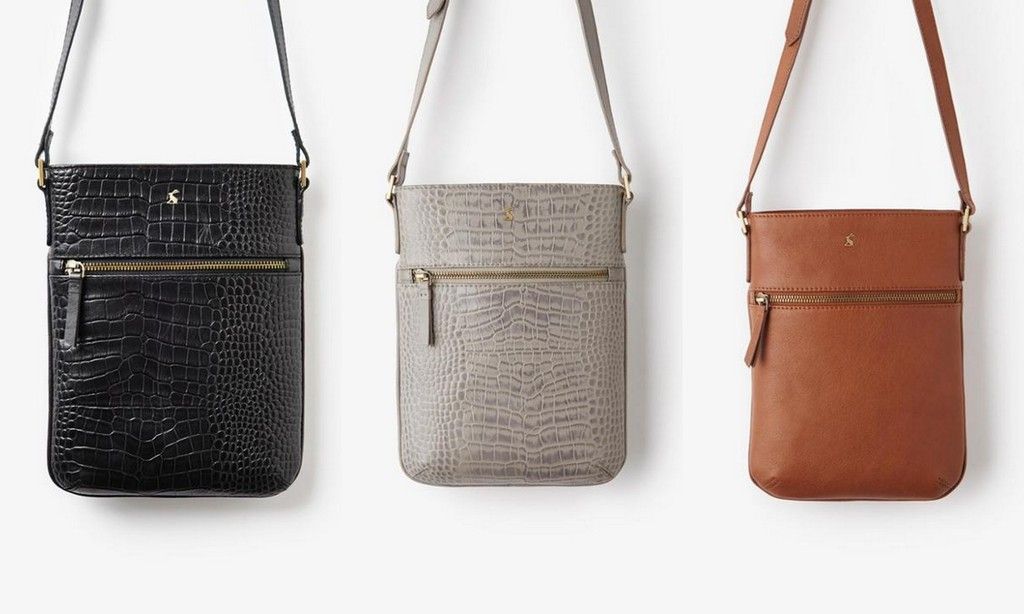 If there is something worth having in your wardrobe it's a classic bag. One you can use everyday. One that will see you through every occasion. I think I've found that bag.
Made from leather with that beautiful rabbit logo adorned on it. It's the perfect cross body bag, leaving you hands free for all the important things (for me pushing a pram). The zip pocket on the front is the perfect place to keep your phone or keys and when you unzip the bag. Well. The lining is absolutely gorgeous. You will find bees, beautiful florals and delicate leaves, which is a lovely little surprise every time you unzip your bag.
The Mayfair comes in three different styles. The Dark Tan, the Black Croc and Grey Croc. I could quite easily have all three of them but if you're making me choose it has to be the Dark Tan. Valentine's Day and Mother's Day are coming up and I'm hoping someone might get the hint!
Joules is one of those brands where I can find something to lust after in every department so I thought that alongside the beautiful Mayfair bag I would share with you my wishlist. I mean have you seen their childrenswear. Edie needs everything from it. It's totally my style. Floral and beautiful patterns. The homeware is just as gorgeous too. The list might help you with Valentines Day or Mother's Day (the 6th of March, in case you were wondering!) gifts.
Edie can not go without a dribble bib right now. Dribble is everywhere including all over me. Luckily you can get some really gorgeous bibs. This white floral one is perfect as it will go with all of her outfits. We get through at least two bibs a day so it's a must have.
Edie got some of these socks for Christmas so she needs to have some Easter ones. These are some of the only socks that will stay on her feet. Even though she is a chunky baby she seems to have small feet and if her socks are loose they get kicked off. These fit her perfectly. I'm going to get these to put away for Easter. Edie won't really be eating chocolate by then so Easter gifts might be a better idea.
On to homeware, this mug is just gorgeous. Eventually I'd like to get around to putting up a shelf in our kitchen to store all my pretty cups, plates and bowls and this would look perfect on there. I do love a good mug and being a keen foodie the text on is just perfect.
These tea towels are way too pretty to use. They would look really nice framed as prints or just hung over a cupboard door. To be fair I do have a stash of tea towels that are purely for decoration and Joules tea towels are just gorgeous. They make a great backdrop to my food photography.
Since being a Mama I spend very little on myself. I think since Edith has been born I've been on two shopping trips. Which in almost 5 months is crazy for me. I used to buy something every week when I was working. So I thought it was time to treat myself. This top is just gorgeous and would be perfect to breastfeed in (layered with a vest underneath). I do find myself living in tops and jeans so this would inject a touch of glamour and colour into my mama wardrobe.
I couldn't resist adding this to my wishlist. I've lived by the seaside my whole life and seagulls are a huge part of coastal living. I used to be woken up by them at 4am in the summer, they've swiped food from me and even swooped down ready to attack. You would think from that I wouldn't want anything to do with them but this keyring is a cute reminder of where I live.
This is just a tiny selection of beautiful items. I hope this wishlist has helped if you're looking for a gift for someone or even if you just want to treat yourself. What's your favourite piece?
This post has been written in collaboration with Joules. All opinions and thoughts are my own. Read my full disclaimer
here
.