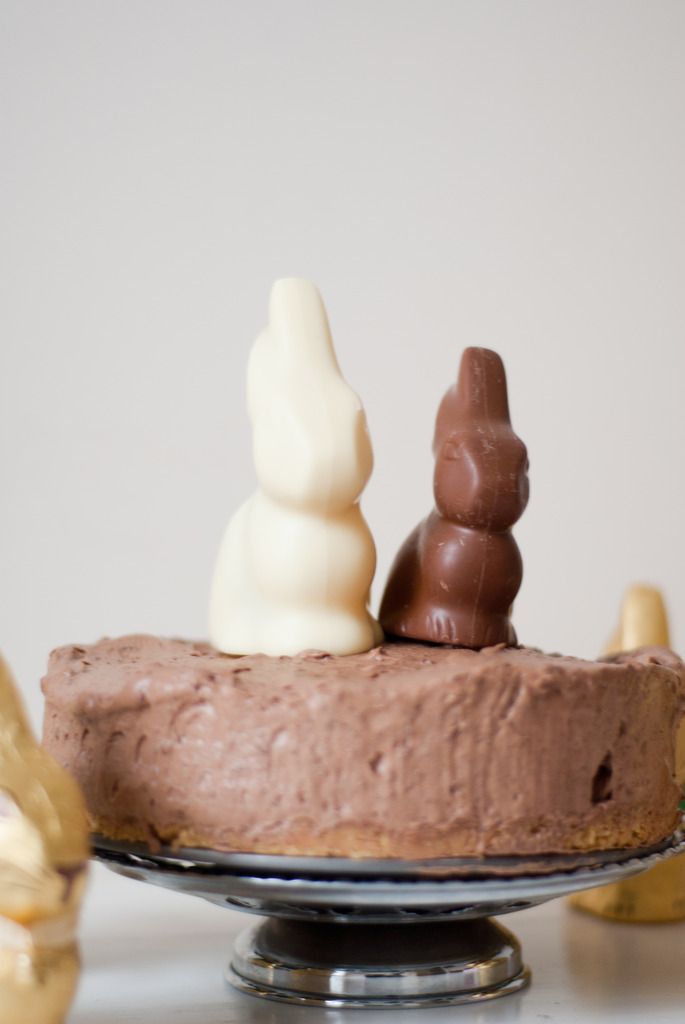 Here's the last Easter recipe I promised and it's a good one. If you can't eat all the chocolate you have on Easter Sunday then when can you? This chocolate cheesecake is the perfect Sunday lunch dessert. The best thing about this other than it being really easy is that although the chocolate flavour is delicious it's not too sickly which is great for when you probably have overdosed with a big Sunday Lunch. I'm heading over to my mum's for Easter lunch and I'm not sure what's on the menu yet. I'm planning on bringing dessert which is going to be some kind of pavlova, probably is some Easter shape. I'm thinking chicks maybe?
The addition of Lindt bunnies on top is completely up to you but the chocolate tops the cheesecake really nicely once you've broken them up. I was lucky enough to be sent some Lindt bunnies to try. Although to me it's not Easter with out one I didn't know that you can get so many different types. There's now a white chocolate, hazelnut and dark chocolate as well as the milk chocolate. All are delicious although the Mr wasn't too keen on the hazelnut one and he ate a lot more of the rich dark chocolate one. But you could top the cheesecake with any Easter chocolate you liked. Onto the recipe.
You will need:
75g butter, melted, plus extra
175g digestive biscuits
225g caster sugar
200g plain chocolate, chopped
3tbsp cocoa powder, plus extra to dust
400ml double cream
400g full-fat cream cheese
Lightly grease and line the base and sides of a 23cm (9in) round springform/loose bottomed tin .
Whiz the biscuits in a food processor until they are finely crushed or find a nice strong volunteer to crush them up with a rolling pin. Add to a bowl.
Add the melted butter and 1tbsp of sugar into the bowl mix until the mixture clumps together. Press into the base of the prepared tin and chill until needed.
Melt the chocolate in a heatproof bowl. When melted and smooth set aside until chocolate is cool, but still liquid.
Put the cocoa powder into a small bowl and stir in 3tbsp hot water to make a smooth mixture. Set aside to cool.
In a large bowl, whip the cream until it just holds its shape, then carefully fold in the cooled melted chocolate and cocoa powder mixture.
In a separate large bowl, beat together the cream cheese and remaining sugar until smooth, then fold into the chocolate mixture until well combined.
Spoon the cheesecake mixture on top of the chilled biscuit base, level and chill until set. At least 3 hours or leave overnight.
Once set take out of the tin and place onto your serving plate. Add your Easter decoration and enjoy!
How are you spending your Easter?