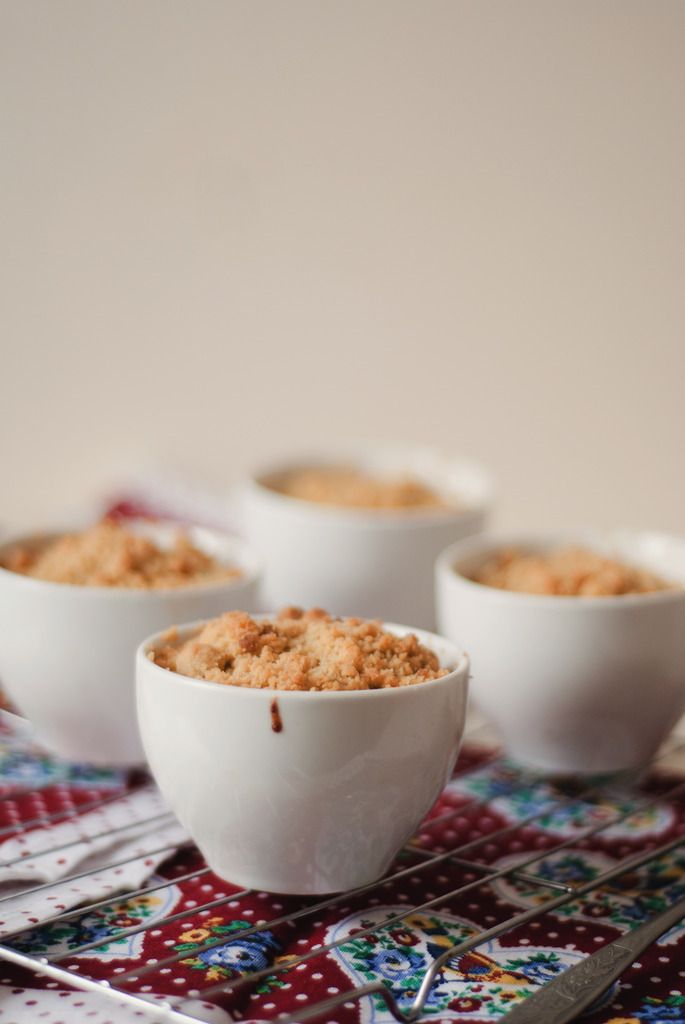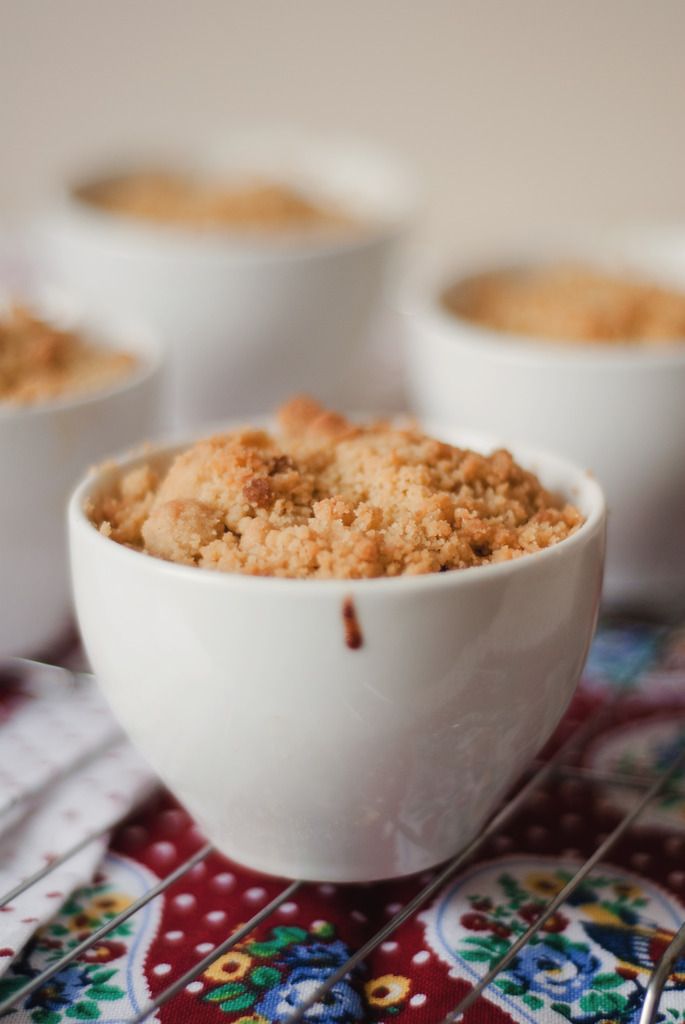 I'm not going to lie when it comes to making crumble I am a beginner. It's not something I make all that often because of my hatred of cooked fruit. I can't stand it, unless it's a blueberry muffin or banana bread. It goes all soggy and I just can't face it. I like my fruit fresh! However I do love crumble topping and my mum would make me a little crumble with just the topping. Which is what I did. The back two in the photograph have no cooked apple anywhere near them.
This crumble recipe is the best. I know that sounds rather big headed of me but it's the one my mum has used for a good few years. The secret is the melted butter. Normally you rub the butter in, but with this one you pour the melted butter over the sugar and flour and it creates these glorious chunks of buttery crumble.
As for the filling I opted for apple. My mum has a huge apple tree in the garden and we when were growing up September would become apple season. Apple crumble, apple pie, apple cake - god I sound like Bubba with the shrimp is Forrest Gump (I love that film so much!). If I were to eat the cooked apple I would want it smoothed in a sticky brown sugar sauce and that's exactly what I did. The combination of brown sugar, cinnamon and mixed spice smelt so good and the Mr has assured me that it tasted good!
I doubled the crumble recipe as the Mr moans that there is never enough crumble topping. Feel free to do this if your love for crumble topping is just as strong.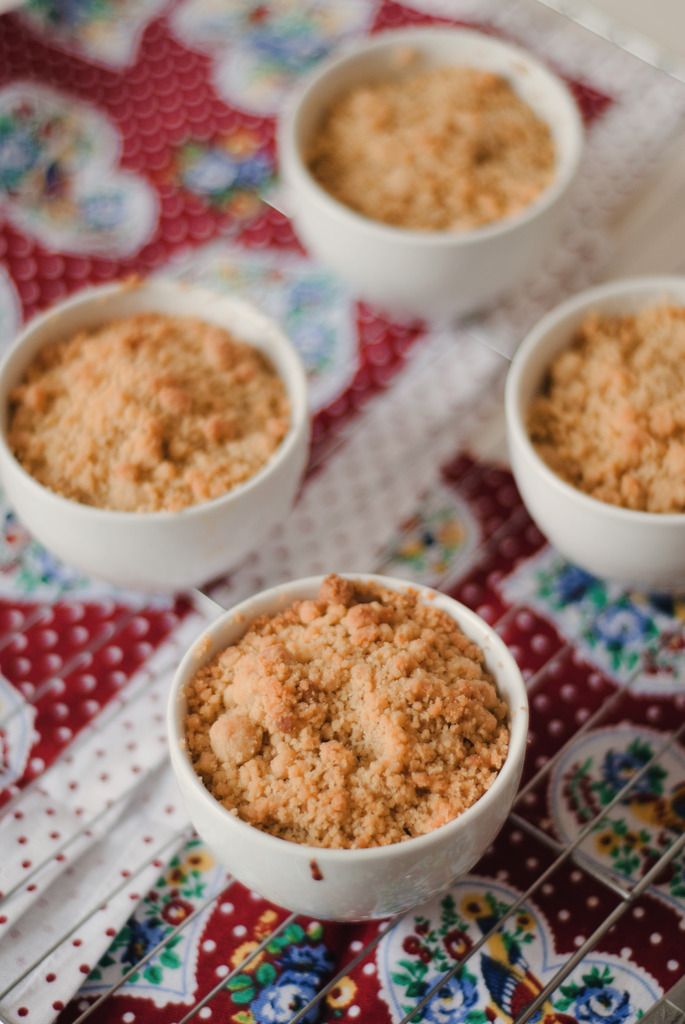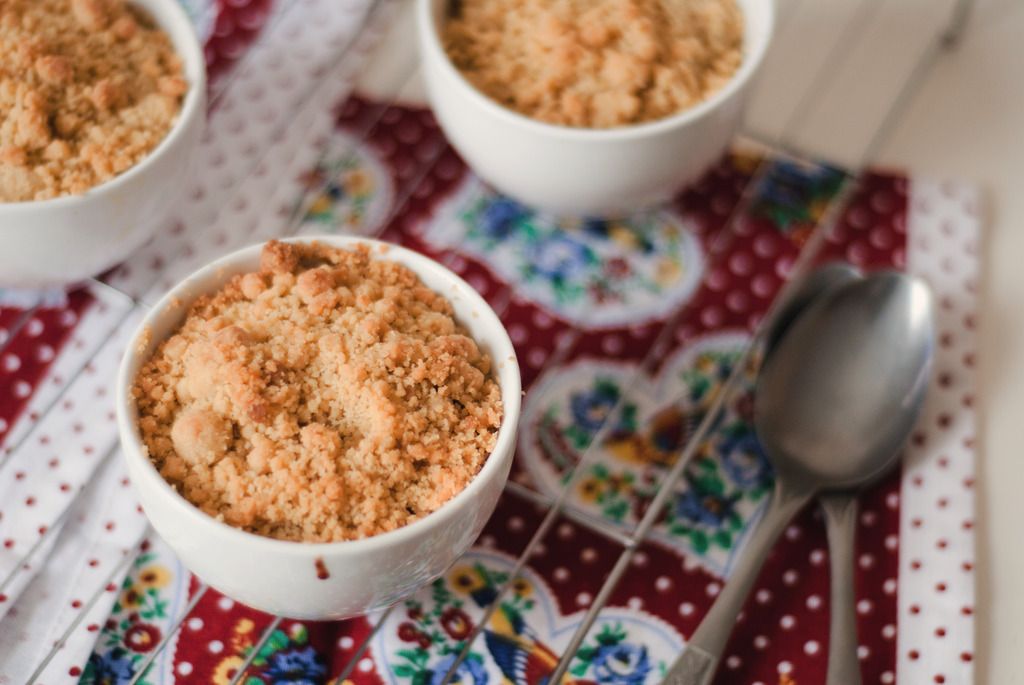 Sticky Apple Crumble
- Makes 4 -
185g plain flour
55g brown sugar, I used light soft brown
100g unsalted butter, melted
25g brown sugar
500g Bramley apples, peeled and chopped
2 tsp cinnamon
1tsp mixed spice
2 tbsp water
- Preheat the oven to 180ºC/Gas 4.
- In a pan add the chopped apples, brown sugar, cinnamon, mixed spice and water. Over a medium heat simmer until the fruit is soft and the brown sugar has melted and thickened into a syrup. Set aside.
- In a large bowl, add the flour and sugar. Mix together.
- Stir in half of the melted butter and mix until combined. Stir in the other half until small chunks have formed.
- Take 4 small ramekins and place the cooked apples in the bottom. Top with the crumble mixture.
- Bake for 25 minutes, until the crumble has turned golden brown.
- Serve warm with hot custard.